Cariblue Working with Government
Cariblue provides a wide range of professional services for all levels of government and is flexible enough to work in both regional and metropolitan locations.
Cariblue's point of difference is based on our 'hands on' practical experience in business, industry and economic development, change management and library services from both a local and state government perspective at strategic, managerial and operational levels.
Importantly Cariblue understands the challenges of working within a government environment. Cariblue is committed to ongoing professional development and life-long learning.
Government Panel - Preferred Supplier

Cariblue is on the Local Government of Queensland Association's Local Buy panel of preferred suppliers for Business Management Consultancy Services. This means we are pre-qualified and ready to provide a range of consulting services including:

Business management
Change management
Economic analysis including Economic Development
Marketing
Cariblue is a responsive and client focused organisation that works with you to find solutions and assist in improving your service delivery.
We offer a choice of engagement models which means we are there exactly when you most need us and at other times are just a phone call away.
We can respond to short notice requirements and enjoy working in both regional and metropolitan areas.
Cariblue's team has the breadth and depth of practical experience of working "hands on" within and for government to help you in planning, strategy and implementation of a wide range of projects, enabling you to deliver the highest standards of outcomes and service for your community. To this government experience the team adds professional qualifications and expertise honed in the private sector.
Our focus is on working with our clients to deliver practical solutions and we have a range of engagement options that are flexible and responsive to your needs and budget.
Business management solutions
Cariblue provides a full range of business management solutions including:
Big picture and visioning
Corporate and strategic planning, development and implementation
Developing plans for: business, marketing, branding, communication, implementation
Project management and implementation
Organisational development, restructuring management and executive teams
Performance monitoring and benchmarking
Policies, procedures, processes
Consultation with community, stakeholders, customers, employees
Facilitation (groups, stakeholders, public/private sector relationships)
Workshops and seminars
Mentoring
Marketing Solutions
Cariblue's marketing team has considerable experience in the practicalities of carrying out market research, developing marketing strategies and implementing same.
Market research including: surveys, focus groups, one on one, desk based analysis
Marketing plans
Communication plans
Brand management
Marketing, including the development and implementation of marketing strategies using all forms of media
Marketing to different levels of government
Location and business marketing
Investment attraction
Public relations
Media famils
E-newsletters
Economic Development solutions
Cariblue's team has experience gained from a range of positions in economic development in regional and metropolitan Australia. Our skills and expertise cover a depth and breadth of activities across all major industry sectors enabling us to provide assistance in areas including:
Economic Development Strategies - development, implementation and review
Economic, industry and business development
Cluster development
Export opportunities and international relations
Professional development and capacity building
Trade shows, trade missions, conferences, exhibitions
Investment attraction
Stakeholder relationships and public/private partnerships
Business incubation
Mentoring
Researching and writing grant applications
Change Management Solutions
Achieving successful change in operations
Change readiness assessments
Engagement strategy development
Implementing change to improve service delivery
Implementing major organisational change

We can respond to short notice requirements and enjoy working in both regional and metropolitan areas, please contact us for more information.
Posted by Cariblue Team on 19 July 2013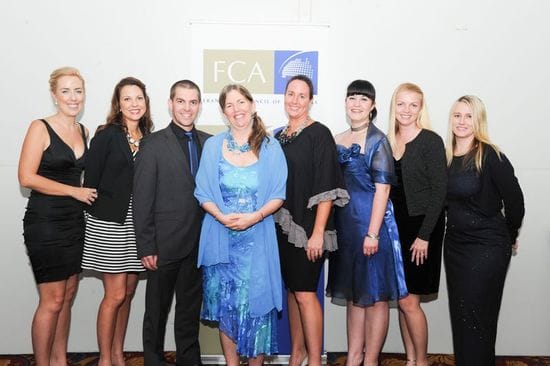 *image sourced from The Franchise Council of Australia
Cariblue's Managing Director, Sarah Cobb, has added another well-deserved trophy to her cabinet after taking out the Franchise Woman of the Year Award at last week's 2013 NAB FCA (QLD) Excellence in Franchising Awards. This award is a result of Sarah and her team's ongoing commitment to the franchise sector, in which Cariblue provides professional services to potential and existing franchise businesses as well as contributing on a voluntary basis to help organise franchise related events.
During Sarah's acceptance speech she highlighted the importance of learning from others and stated "I think in the franchise community, it's always great when we come together. This community is exceptionally good at sharing knowledge. Networking is critical to keep you connected. It's as much about what you give out as what you get back".
Cariblue has successfully assisted many businesses to achieve their dream of franchising over the years and will continue to do so for many more to come. Our team of franchising specialists utilise their extensive knowledge and experience on a day-to-day basis to help grow our client's businesses into successful franchise brands. Our franchise services include:
Franchise Start Up & Growth:
Franchising a Business
Branding a Franchise
Growing a Franchise
Operation Manuals
Franchisee Development and Performance
Franchise Selection Process
Franchisee Recruitment
Territory Mapping
Franchise Marketing:
Local Area Marketing
Market Research

Franchisee Surveys
Customer Research
Industry Research
Competitor Analysis
Franchise Territory Research

PR & Communication
Brand Management
Online Strategies for Franchises

Franchise Websites
Email Marketing
SMS Marketing
Database Management
If you're considering franchising your business or would like to grow your existing franchise, please contact our team today to arrange a free consultation and find out how Cariblue can help!